Mala. You either love it or hate it. However, those who have never tried it won't be able to tell for themselves.
For those who are new to it, mala is a unique kind of seasoning and flavour so spicy that it creates a numbing sensation. It's made from Sichuan peppercorn and chilli and is commonly found as a flavour in hotpots.
Originating from China, mala has found fans among Malaysians, especially those who love a strong kick to their foods.
However, mala dishes can be challenging to serve to our local community, particularly for Muslims, who have to consider the halal status of the food.
Recognising this issue, Mala Mini Hotpot is a local brand that has created a recipe that incorporates mala flavours while maintaining halal ingredients and processes.
A post-pandemic venture
Many of us are now familiar with "pandemic-born" brands that have popped up to cater to the new normal that arose during the MCO period. But nowadays there's a greater focus on "post-pandemic-born" brands that are quickly jumping in to fill the gap created by our new new normal.
Mala Mini Hotpot, a subsidiary of the XLK Group, is one such brand.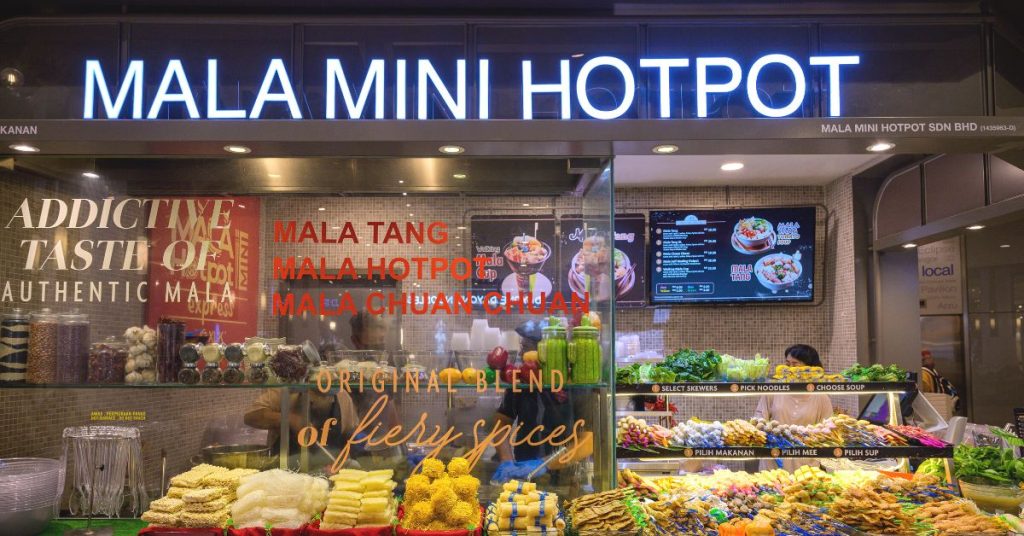 According to its Business Development Director, Zamriwalikaram, Mala Mini Hotpot is taking advantage of the post-pandemic era whereby the F&B industry has become a high-guarantee, low-risk one to venture into.
Despite being such a new brand, however, Mala Mini Hotpot already has a central kitchen at Equine Park Seri Kembangan that supports its two premium branches at IOI Mall Putrajaya and Mid Valley.
Furthermore, the brand also has five more express stores in Aeon Shah Alam, One Utama, Alamanda, I-City Center Shopping Mall, and Pavilion Bukit Jalil.
Clearly, shopping malls seem to be the preferred setting for the brand, though Zamriwalikaram said that the team does plan to open branches in a wider range of strategic locations.
According to him, this is possible because of four reasons: a low amount of capital is required to open Mala Mini Hotpot, the business has a fast return on capital, the business model is able to yield high profits thanks to lower operating and raw material costs, and tech development initiatives that allow for its technical operations to be handled without the need for skilled personnel.
The consistent SOPs also create a more streamlined experience when trying to replicate Mala Mini Hotpot's business system.
Introducing mala to a new community
While mala-flavoured foods have conventionally been non-halal, halal versions of mala dishes aren't completely unavailable in Malaysia, even before Mala Mini Hotpot came around.
For example, there's Mala Mala, which serves dishes such as various mala stir-fried dishes.
Interestingly, Mala Mala can be found exactly at the two premium Mala Mini Hotpot outlets Zamriwalikaram had pinpointed—Mid Valley and IOI City Mall. This could be a strategic move from Mala Mini Hotpot as they know there is an appetite for halal mala foods at these locations.
Another name is Malatoop, which also has various mala-infused items such as steamed fish, chicken, wings, and more.
Over the years, various halal steamboat or hotpot places have also popped up, including popular names such as Seoul Garden and Pak John Steamboat & BBQ.
But the market still seems to be lacking when it comes to halal mala hotpots in particular.
Thus, Mala Mini Hotpot finds itself in a unique position whereby it has to educate the Malaysian Muslim community about mala hotpots and how it has produced a halal version.
"We are confident in the Malaysian community's culture of easily adjusting to international recipes, in addition to their excitement for new recipes, that this will bear fruit," Zamriwalikaram said.
The Mala Mini Hotpot team has cooperated with JAKIM to obtain approved suppliers to ensure that the entire preparation process from the sauce mixture to the raw materials is halal. The team also told us that they're in the midst of obtaining halal certification.
Mala dishes currently being served at the chain include malatang, mala chuan chuan, and of course, the mala hotpot.
Putting the mala in Malaysia
At the moment, the key thing that Mala Mini Hotpot is eyeing is expansion—a rapid-paced one at that.
To do that, the team has developed its own training programme that involves a product development centre, distribution centre, technology centre, training centre, sales centre, and marketing centre.
With this system, the company intends to have ten branches by the end of this year and expand outside of the Klang Valley by the next.
"We are confident that many entrepreneurs will want to join us, and we anticipate rapid growth," he confidently shared. "We encourage many people, particularly young entrepreneurs, to get involved in the mala hotpot business."